Sun-3/260 or 280 boards
We got a set of Sun-3/260 or Sun-3/280 boards. Unfortunately the backplane and chassis were not there when we found these boards.
CPU board (501-1206)
68020 CPU board with monochrome video. Ethernet controller is the Intel 82586.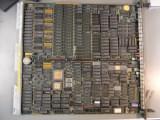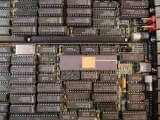 Memory board (501-1102)
16×18 NEC μPD41256C-10. We got two of these boards, and the other board has yellow component socketed in the empty 8×2 socket in the left center by the backplane connector.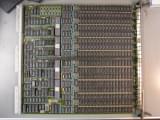 Tape controller board (501-1155)
It looks like this is the tape controller board. The board is composed of Multibus-to-VME converter card and the actual tape controller logic board.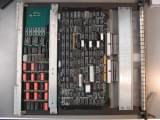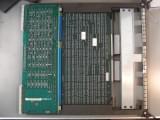 Disk controller board (501-1166)
This is a fixed disk controller, at least that's what I can tell. This is a Multibus controller converted to the VME bus using the same board as the tape controller.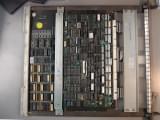 Communication Processor II Board (501-1221)
Looks like a large number of communication channels are available on this board.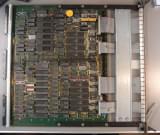 Sun GT Graphics Subsystem Rendering Pipeline Board (501-1726)
A set of boards from the Sun GT Graphics Subsystem tower.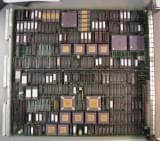 The second floor of the Rendering Pipeline Board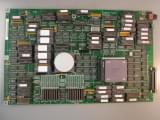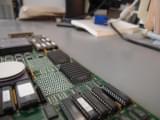 Sun GT Graphics Subsystem Frame Buffer Board (501-1267)
The framebuffer part of the GT Graphics Subsystem. The VRAM is 64× Micron MT42C4064Z-12 for a total of 2,097,152 bytes.