IBM POWER4 MCM package
POWER4 is the first POWER series processor to operate at a frequency of higher than 1 GHz. Introduced in 2001, it's one of the first modern multi-core CPU designs. An IBM POWER4 multi-chip module (MCM) consists of four POWER4 CPU chips. Each of POWER4 chip has two cores. These photos are taken when we disassembled an IBM pSeries 690 system.
MCM package
IBM PN: 11P4951. The MCM is a huge and heavy ceramic slab, glued to a metal heat spreader. The other chip in the photo is Intel's LGA775 variant, which is dwarfed by POWER4.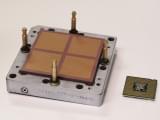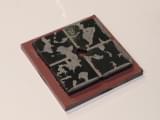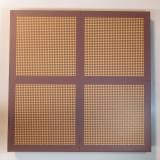 The MCM connects to the rest of the system using a sheet with two-dimentional array of gold balls. The gold balls are created by folding a wire as you can see in the microscope photo below. Probably this sheet is sold separately.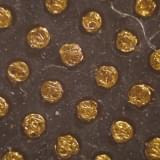 Heatsink
The heatsink is V-shaped and the air flows from the top to sides. Sponge is used for acoustic or aerodynamic isolation, and it disintegrates over time. The small pieces of sponge fills up the valley of the heatsink, which leads to hardware failure. The server experienced multiple CPU failures and replacements, and when we decided to abandon it altogether, we found this culprit of the failure.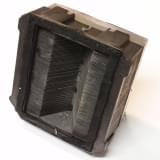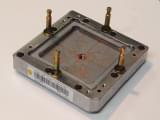 pSeries 690 (a.k.a. Regatta)
The IBM eServer pSeries 690 is well known by its beautiful codename Regatta. The machine is huge and almost as large as two refrigerators.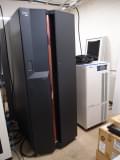 The pSeries 690 is built more like mainframes than UNIX servers. The processors are placed in large metal box, memory drawers are installed in another separate box, and PCI cards are boxed in drawers and then installed in one of I/O boxes. The following photos are taken when one of the four MCMs are removed from the processer enclosure.