MoonCal
MoonCal is an Android app that displays calendar with moon phase.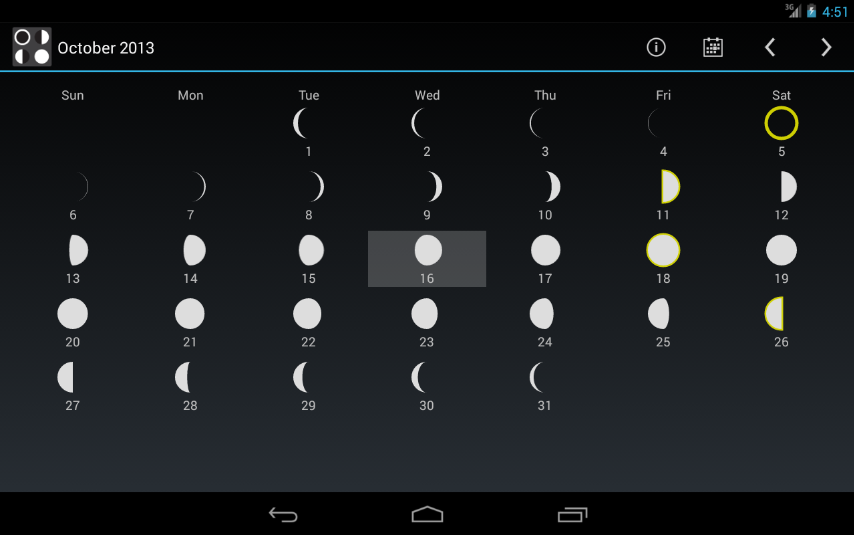 Supported Devices
Requires Android 3.0 and later.
Changes
Version 11 (29-May-2021)
Version 10 (13-Aug-2019)
Version 9 (10-Dec-2016)
Update in-app hyperlink URL to this website
Android 7.1 SDK
Version 7 (16-Aug-2015)
Use system theme color on Material design when using Android 5.0+
Version 6 (20-Oct-2014)
Support Android 5.0 Lollipop behavior changes
Apply Material theme on Android 5.0 devices
Version 5 (16-Aug-2014)
Supported years extended to 1923-2037 on 32-bit platforms.
Added a dialog to pick a month/year
Labels for day of week are localized using system settings.
Other minor bugfixes
Version 4 (21-Jul-2014)
Includes binary modules for arm64-v8a, x86_64, mips64, armeabi-v7a, armeabi, x86 and mips (NDK R10 in use)
Removed next/prev month menu items. Use gestures instead.
A week can start on either Sunday or Monday. Use Settings to switch this.
Use best representation of Year/Month based on locale settings (only on API>=19).
Downloads
License: GPLv3. See COPYING file in the source archive for details.
Also available from following sources:
This app requests no permissions. This compiled version includes binary for all platforms supported by Android NDK R10, including 64-bit ARM, x86_64 and mips64.
How to build from source
Building from source is fully automated using GitLab CI. See the GitLab CI configuration file for required SDKs, tools and build steps.
Acknowledgments
This program includes phases.c included in kdeplasma-addons-4.10.5 package from KDE, which was based on Christopher Osburn's work. I am grateful to both the KDE project and Christopher Osburn for providing us with their excellent work.