LogTimer
LogTimer is a logging stopwatch application that is useful for practicing presentations.
Hit Start button, and jot down whatever happened in the presentation, such as page flip.
The event is logged with the timestamp in the text field.
Send the log to the presenter after the presentation is finished.
Adjust the timings and add/remove slides so that the content of the presentation is well balanced.
Written using Python and python-gobject for GTK3, this program has native look and feel on the GNOME3 desktop.
Screenshot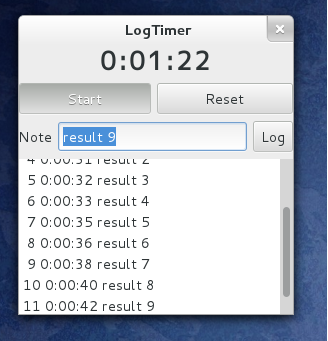 Requirements
Python. Tested on Python 3.10.4 on Ubuntu 22.04.
python-gobject (GTK3). Tested with version 3.42.0-3.
python-gobject is provided by distribution packages like python3-gobject or pygobject3 (in Fedora 17). I verified this program on Arch Linux, OpenSuSE 12.1 and Fedora 17 with appropriate packages installed.
Download
This program is released to the public domain.