Fujitsu AP1000
The Fujitsu AP1000 is a parallel computer built around SPARC processors. AP1000 is referred to as CAP-II in literature. The description of its architecture is published on papers that are written in Japanese [1] [2] [3] [4]. It looks like it is successor to Fujitsu Cellular Array Processor architecture that is based on Intel 80186 [5]. We got a set of boards from an AP1000 that we had installed here a long time ago. Most of the boards are unidentified, so if you have any idea what those boards are for, please let me know.
Cell Board
Two cells are implemented on a cell board. A cell is composed of: LSI L64801NC-25 SPARC IU, WEITEK 3170A-025-GCD, Fujitsu MB630053, Fujitsu MB630055, Fujitsu MB631051, Fujitsu MB633051, 40× MOSEL MS514400-80ZC (4-bit× 1M words), cache memories and debugging LED. This board connects to the backplane using four 120-pin sockets, and four 50-pin headers in front.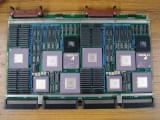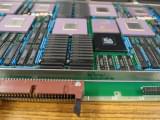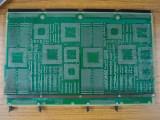 Unidentified Board A
This board has 3× Fujitsu MB631051 and debug LED array in front.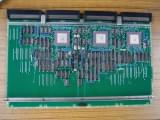 Unidentified Board B (Memory-only cell?)
This board has 3× Fujitsu MB631051, Fujitsu MB630055, 2× Fujitsu MB633051 and 80× MOSEL MS514400-80ZC. The similarity of the circuit design and component suggests that this is a 2×16MB memory-only cell board (not sure).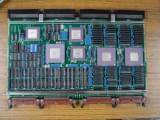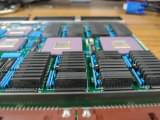 Unidentified Board C
This board has 3× Fujitsu MB631051. This is similar to Board A, but this one comes with eight connectors in front. The same connectors are also implemented on the Cell board. We do not know what these connectors are for.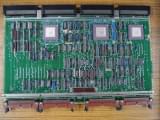 Unidentified VME board
This VME board was in the same cardboard box as the other boards, and it has an Fujitsu logo. Possibly an AP1000 host interface. The host that we got is a rebadged SPARCstation-10 with a double-slot S-bus adapter. Possibly the host system is upgraded from a VME-based Sun-4, and only AP1000 host interface was preserved for some reason. Now it's almost impossible to get a VME-based Sun-4.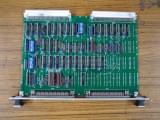 References